In this article we will be diving deep about this interesting topic Top Vulnerability Management Solutions.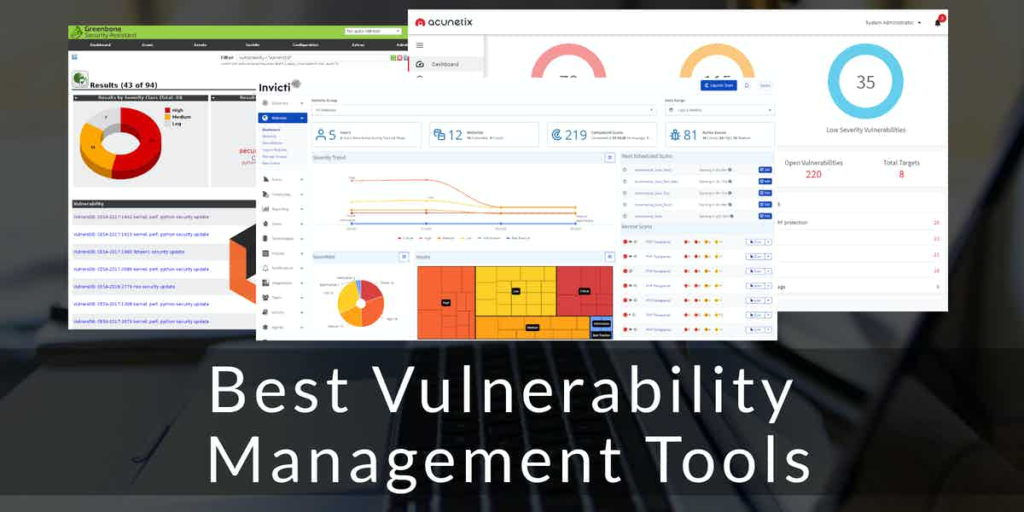 Now, let us see what it means !

Vulnerability management software: What is it ?
---
– Common cybersecurity tools like firewalls and antivirus software are well known to many individuals. These are reactive tools, which are made to deal with attacks as they happen.
– On the other hand, vulnerability management software approaches cybersecurity in a different way. Instead, it actively seeks for flaws by scanning the network, finding vulnerabilities, and making remedial recommendations to lessen the likelihood of future corporate security breaches. It is a clever strategy for businesses to avoid being compromised by hackers.
– Some vulnerability management technologies may assign threat levels to weaknesses, which enables IT teams to prioritize the most important problems that should be handled first, in addition to just providing information into how to remediate potential cybersecurity concerns.
– Some even have the ability to automatically repair some vulnerabilities by installing patches and doing other adjustments.

How Do Tools for Vulnerability Management Operate ?
---
– Vulnerability management uses a variety of strategies.
– All endpoints are scanned by vulnerability scanners to look for missing security patches and other types of vulnerabilities.
– Penetration testing is a technique that looks at the business from the perspective of a hacker to determine how and where protections might be exploited.
– Tools for breach and attack simulation (BAS) look for flaws and give a mechanism to order remedies.
– Vulnerability assessments can help prioritize fixes by analyzing an organization's overall security posture and weaknesses.
– The fixes prioritized by the vulnerability management tool are subsequently applied through patch management.
– Tools for managing vulnerabilities incorporate a number of these techniques and include prioritizing and remediation. To reduce the workload on overworked security workers, certain products automate these tasks.

Key Characteristics of Tools for Vulnerability Management
---
– To cover all of a company's enterprise security requirements, vulnerability management needs a substantial set of functions. Consider which of these aspects is most pertinent to your requirements when choosing which of these cybersecurity solutions is ideal for your company.
– It should be noted that not all tools offer these features. Some offer only a few, while others offer lots of them. However, it usually takes a variety of products to cover all bases.
– Continual checking for potential weaknesses and monitoring
– Monitoring system with rules (IT can determine which systems and assets to monitor)
– Setting rules for notifications
– Visualizing the attack surface
– Analytics and modelling of attack vectors
– Risk-scoring
– patch control
– Automatic patches and updates
– To detect problematic access routes and recommend reduced risk traffic redirections, do network access path analysis.
– Analysis of endpoint and secured asset reachability
– Reporting that can be customized, such as policy-driven compliance reports
– Automatic correction

Vulnerability Management Tools: Benefits
---
– Vulnerability management has clear advantages. Less breaches occur as a result of vulnerability management, which also provides a tool to gauge how secure an organization's perimeter actually is. It is also an excellent way to protect data and identify potential attacks before they happen.
– The majority of cyberattacks originate internally, through email, phishing, and social engineering schemes, therefore vulnerability management technologies also close the gaps that permit lateral movement within your network.
– Automated product suites can save staff time that could be used for other important tasks in addition to the protection provided by strong vulnerability management software. Therefore, the time saved by security professionals and the prevention of data breaches could more than offset the cost of a comprehensive vulnerability management program.

Vulnerability Management System Selection Guide
---
– The following considerations should be made while choosing vulnerability management tools :
– What operating systems does the tool support? Some support various OSs, while others exclusively support Windows or Linux.
– The endpoints covered are what? Others cover cellphones, IoT, WiFi, and other devices in addition to servers, PCs, and laptops.
– How well-versed in these tools is IT? If your IT personnel only has Windows knowledge, avoid purchasing a Linux-based scanner.
– Analyze prices in detail. Be sure to read the small print when purchasing paid scanners to be aware of potential additional costs, support fees, and other items.
– Be open to finding multiple solutions. Combining tools is frequently a wise move because one tool might overlook something that another one notices.

Most effective vulnerability management solutions
---
– We looked into features, analyst and user feedback, growth, and other aspects of the vulnerability management tool industry. Here are our selections.

Qualys


– Qualys VMDR gives businesses the ability to inventory all hardware and software, classify and tag essential assets, and automatically detect any asset in their environment, including unmanaged items that appear on the network. In order to prioritise and fix actively exploitable vulnerabilities, it regularly evaluates these assets for the newest vulnerabilities and applies the most recent threat intelligence research.
– Important Differences
– With real-time threat intelligence and machine learning, Qualys Threat Detection can manage changing threats, react to them, and stop breaches.
– The tool automatically locates vulnerable assets and applies the most recent superseding patch.
– Qualys VMDR continuously detects unmanaged assets, automatically discovers and categorizes known and unknown assets, and develops automated procedures to manage them.
– To offer visibility into hardware, system setup, applications, services, and network information, it queries assets and any properties.
– The program finds and categorizes major flaws and configuration errors, including those on mobile devices, operating systems, and applications.
– The most dangerous vulnerabilities are automatically given priority by real-time threat intelligence, correlation, and machine learning algorithms.
– By using orchestration workflows, the Qualys Cloud Platform, lightweight Cloud Agents, virtual scanners, and network analysis (passive scanning) are merged into a single app.

Rapid7

– Rapid7 provides two resources. An on-premises vulnerability scanner with real-time coverage of the entire network is Nexpose Vulnerability Scanner. With updated data, it adjusts to new dangers. Additionally, its cloud-based application InsightVM provides everything Nexpose does plus more sophisticated features including remediation workflows and Rapid7's all-purpose Insight Agent.
– Important Differences
– With more accurate risk assessments, you can see which weaknesses to concentrate on first.
– Give IT the data it needs to rapidly and effectively resolve problems.
– It offers a risk score between 1 and 1,000 rather than prioritizing based on a scale from 1 to 10.
– On-premises, cloud-based, and containerized infrastructures are all visible with Nexpose.
– Adaptive security built within the tool automatically finds and evaluates new devices and vulnerabilities.
– Policy evaluations are part of Nexpose's system benchmarking tools.
– There are both built-in and custom reporting options.

Tenable

– [Tenable.io](http://tenable.io/) offers up-to-date details on the full attack surface, including knowledge of all resources and vulnerabilities. It is a cloud-delivered option that enables IT to improve the efficacy of vulnerability management procedures.
– Important Differences
– People with a shared interest in Tenable and vulnerability management can get together and share ideas in the Tenable Community.
– Nessus sensors are used by [Tenable.io](http://tenable.io/) to provide total visibility from on-premises to the cloud through active and passive network monitoring as well as agent scanning.
– [Tenable.io](http://tenable.io/) assists in determining which vulnerabilities have the largest impact by using vulnerability data, data science, and threat intelligence.
– The tool keeps track of dynamic IT assets like mobile devices, cloud instances, and virtual machines.
– Users can locate and evaluate difficult-to-scan devices and short-lived systems by continually monitoring network traffic.
– Through connectors for Microsoft Azure, Google Cloud Platform, and Amazon Web Services, cloud services provide ongoing visibility and evaluation into public cloud environments (AWS).
– Workflows are automated, and [Tenable.io](http://tenable.io/) data is shared with various external systems via prebuilt integrations, APIs, and SDK resources.

F-Secure

– The enterprise security division of F-Secure has changed its name to WithSecure. The F-Secure moniker will be kept for the consumer business.
– The cloud-based vulnerability scanner included in WithSecure Elements Vulnerability Management is stated to be simple to deploy and covers your network, assets, the deep web, and compliance. It is a component of the WithSecure Elements platform, which provides endpoint protection, collaboration protection, vulnerability management, and detection and response.
– Important Differences
– With Secure Elements Vulnerability Management, actions like brand violations, third-party scams, and phishing websites are immediately reported.
– The tool is available as a managed service that is entirely outsourced or in the cloud.
– The network, assets, and deep web can all be covered using web crawling technology.
– A Windows program called Vulnerability Management Endpoint Agent automatically gathers information from all endpoints.
– All internet-facing systems are discovered by Internet Asset Discovery.
– All hosts and network devices in the infrastructure are uncovered by discovery scans.
– System vulnerabilities such as ransomware or other malicious software can be found via vulnerability scanning.

Conclusion
---
That's all about the Top Vulnerability Management Solutions. After reading this essay, I hope you found it enjoyable and learned something new. We have learned what are the key characteristics, benefits, and key features of vulnerability management tools.