ISO 27001 certification is an international standard that outlines best practices for information security management systems (ISMS). It provides a framework for managing and protecting sensitive information through risk management and the implementation of security controls.


Secure your organization's future with peace of mind - pass your ISO 27001 audit with flying colours!
ISO 27001 also known are ISMS is a framework of policies and procedures for systematically managing an organization's sensitive data. ISMS Consulting is a key service provided by Eshield It Services.
Furthermore, it includes the processes, people, technology, and procedures that are designed to protect against unauthorized access, use, disclosure, disruption, modification, or destruction of information.
Also, ISMS is globally recognized standard that outlines recommended practices for information security management systems (ISMS). It establishes a framework for managing and safeguarding sensitive information through the implementation of security controls and risk management.
The standard specifies the requirements for establishing, implementing, maintaining, and enhancing an ISMS. However, this includes creating security policies, conducting risk assessments, implementing security controls, and regularly monitoring and reviewing the ISMS.
Therefore, organizations can use ISMS to demonstrate their commitment to information security and improve their overall security posture. Certification to the standard is also becoming more important for firms that handle sensitive data or must adhere to legal requirements.
Three security objectives
There are 3 basic goals of ISO 27001:
Confidentiality:

only authorized persons have the right to access information.

Integrity:

only authorized persons can change the information.

Availability:

the information must be accessible to authorized persons whenever it is needed.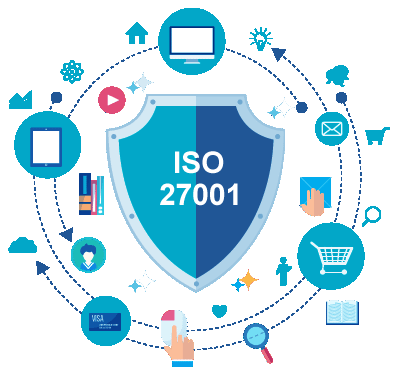 Improved Information Security:

ISO 27001 is a worldwide accepted standard outlining best practices for information security management systems (ISMS). Moreover, it creates a framework for managing and protecting sensitive information by implementing security controls and risk management.

Compliance with Regulations:

The standard defines the requirements for developing, deploying, maintaining, and improving an ISMS. However, this includes developing security policies, conducting risk assessments, installing security controls, and monitoring and reviewing the ISMS implementation on a regular basis.

Increased Efficiency:

ISO 27001 can be used by organizations to demonstrate their commitment to information security and improve their overall security posture. Certification to the standard is also becoming more relevant for businesses that deal with sensitive information or must follow legal regulations.

Risk Management:

ISO 27001 is a systematic and structured risk management strategy that helps enterprises to detect, investigate, and eliminate risks to their information assets.

Business Continuity:

By identifying and managing risks to critical information assets, ISO 27001 can help organizations ensure the continuity of business operations in the event of disruptions or disasters.

Cost Saving:

An ISMS certification consulting services near Dubai can help companies save money over time by lowering the cost of responding to data breaches, ensuring compliance with applicable rules and regulations, and lowering the cost of responding to data breaches.
Types of Services in ISO 27001 we provide
Gap Analysis:

A gap analysis is an evaluation of an organization's existing information security management system policy against the ISO 27001 criteria to identify areas of non-compliance and chances for development.

Risk assessment:

It is the process of detecting, analyzing, and evaluating threats to an organization's information assets in order to evaluate the likelihood and effect of future security incidents.

Policy and Procedure Development:

Creating and documenting policies and procedures to satisfy ISO 27001 requirements can be a difficult task, but it is critical for achieving and maintaining compliance.

Implementation Support:

While an effective ISMS implementation can be a difficult and time-consuming process, our ISO certification consultants in UAE can give direction and help to ensure that the necessary controls are installed and integrated efficiently.

Internal audit:

Internal auditing of the ISMS on a regular basis can help firms uncover weaknesses and possibilities for development while also guaranteeing compliance with ISO 27001.

Certification:

Our team includes an ISO 27001 accredited lead auditor who can give you with ISO 27001 certification.

Initially, create a project governance structure for the implementation of the project with defined project scope and deliverables
Perform Readiness/GAP Assessment with respect to ISO 27001, IT Operation & Process, Application, End users, Supporting departments with reporting, roadmap definition & final presentation to ABC Company team
Define Information Security Management System governance structure with documented roles and responsibility
Development of IS policies & procedures to mitigate the identified risks.

Implement a risk management framework and identify risks posed to the organisation
Population of risk register and updated with risk mitigation actions, and residual risks
Selection of appropriate controls and development
Impart training & knowledge transfer for the smooth transition of the service management & security management systems to ABC Company
Internal audit, Corrective action – Preventive Action reports and observations
On-going support for a period of 3 years for internal audit and external audit
Why Eshield ISO 27001 Consultants in UAE
Value for every penny spent
The procedure meets global standards.
Risk strategy business enabler framework
We prioritize service quality and customer satisfaction.
Highly qualified and experienced team with extensive knowledge of the ISMS Standard
Extensive practical knowledge and understanding of information security systems
Moreover, the ISO Certification in Abu Dhabi is beneficial for businesses of any size and industry, as it ensures compliance with the requirements of the Abu Dhabi information security standards Information Security Management System (ISMS) and helps in securing their information assets.
The ISO Certification in UAE is particularly relevant for industries where information protection is critical, such as financial services, banking, healthcare, public, and IT sectors. Additionally, it is mandatory for data centers and IT outsourcing companies that handle substantial volumes of data or information for clients and customers
To summarize, if you want to know more about ISO 27001 Information Security Management Certification and its prerequisites, do not hesitate to contact us. We can offer a free consultation by our best ISO certification consultants in Dubai and guide you through the certification process and implementation tailored to your organization.
ISO 27001 Certification Easy Steps
ISO 27001 Certification Process: A Step-by-Step Guide
Understand the Standard: Familiarize yourself with the ISO 27001 standard and its requirements. Gain a comprehensive understanding of the purpose and scope of the certification.
Gap Analysis: Conduct a thorough assessment of your organization's current information security practices. Identify any gaps or areas of non-compliance with the ISO 27001 standard.
Establish the ISMS: Develop an information security management system that aligns with the requirements. This involves defining policies, procedures, and controls to manage information security risks effectively.
Risk Assessment: Perform a risk assessment to identify potential threats, vulnerabilities, and impacts on your information assets. Determine the appropriate controls to mitigate or eliminate these risks.
Implement Controls: Implement the necessary controls identified during the risk assessment stage. These controls should address various aspects of information security, such as access control policy iso 27001, incident management, and business continuity.
Training and Awareness: Train employees on information security best practices and their roles and responsibilities within the ISMS. Foster a culture of security awareness throughout the organization.
Internal Audit: Conduct regular internal audits to evaluate the effectiveness of the ISMS. Identify areas for improvement and take corrective actions to address any non-conformities.
Management Review: Engage top security information management tools in regular reviews of the ISMS. Assess the system's performance, evaluate the effectiveness of controls, and make necessary adjustments.
Certification Audit: Engage an accredited certification body to conduct an independent audit of your organization's ISMS. The certification audit verifies compliance with the standard.
Certification: Upon successful completion of the certification audit, the certification body will issue certificate, demonstrating your organization's compliance with the standard.
Unlock the possibilities today! Explore our wide range of services and get in touch with us at

Contact us

or email us at

[email protected]

to discover how we can cater to your needs.