In this article we will be diving deep about this interesting Cyber Security Certifications and Careers.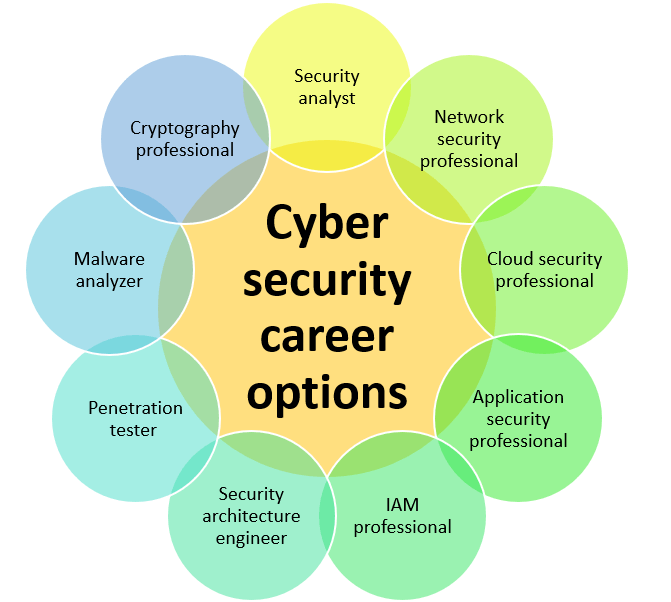 Now, let us see what it means !
Cyber Security
→ It's a basic question because cyber security, a good career, protects network devices and operating systems in cyberspace from cybercriminal attacks. The definition is straightforward, and as we learn more about it, we can observe how it evolves.
→ According to data and graphs, cyber attacks are increasing every day as almost all types of users and organizations utilize cyberspace for their daily activities. As a result, the demand for cyber security experts has reached an all-time high, with around 3.5 million job titles available worldwide. Therefore, now is the best time to get started in this field.
→ Working in cybersecurity can offer both lucrative opportunities and high levels of stress. Globally high demand for cybersecurity professionals remains significant, primarily driven by the substantial gap between the number of existing cybersecurity specialists and the daily cybersecurity challenges encountered worldwide.
→ Another reason behind the growth of this field is that cybersecurity specialists bear the responsibility of ensuring that an organization's data remains uncompromised. As a cybersecurity professional, you hold the responsibility for safeguarding and securing your company's data.
→ From entry-level positions such as Network Administrator to senior roles like Cyber Security Architect, the field of cybersecurity presents a wide range of opportunities for professionals to explore.
Cyber Security As A Career
→ Due to the criticality of data protection, every organization has a demand for cybersecurity professionals. The industry seeks cybersecurity specialists actively, and in comparison to other Asia-Pacific countries, India possesses a larger pool of candidates.
→ In India, there is a substantial shortage of experienced individuals capable of addressing the cybersecurity problem, which opens up numerous new avenues for young Indians interested in pursuing careers in cyber security.
→ A college diploma serves as a good starting point for entering the field of cybersecurity, but there are other cybersecurity career paths also. Approximately 43% of cybersecurity professionals hold certifications, which they obtained through additional training alongside their college bachelor's degrees. Acquiring a cybersecurity certificate is an excellent way to initiate one's journey in this field.
Now, let's examine the skills an individual needs to excel in this field.
→ In addition to a college diploma and certifications for cybersecurity, possessing certain soft skills can significantly aid your advancement in the cybersecurity profession. To succeed in this field, we highly recommend gaining hands-on experience.
→ If you decide to pursue a career in cybersecurity, the pragmatic cybersecurity industry will support you in developing several soft skills.
Problem Solving
If you aspire to inhabit a world brimming with challenges, embracing the role of a problem solver is essential. Cybersecurity issues have the potential to disrupt the global order, and compromises in data security are particularly critical as they impact the privacy of individuals and organizations alike. It falls upon the cybersecurity specialist to address and resolve these cyber issues while safeguarding the data. Your critical thinking skills will prove invaluable in emergency response situations.
Be A Super Hero
Cybercrime inflicts a staggering cost of over $6 trillion on the global economy, while also endangering countless lives. In this context, a cybersecurity expert assumes the role of an Avenger, protecting the world from the clutches of cybercrime. If you possess genuine concern for the victims and their well-being, a career as a Security Engineer would be an ideal choice for you.
Enthusiast
Take on greater responsibility in tackling cybersecurity threats, drawing inspiration from the stories of individuals who have been rescued from online scammers. If you are an enthusiast who thrives on creatively solving problems, a career as a Penetration Tester may be a perfect fit for you.
Quick Learner
Maintain an open mind towards emerging technologies utilized for resolving cybersecurity issues. Familiarize yourself with the security tools specifically designed to assist security professionals. Rapidly grasp the problem at hand and implement the most effective solution approach. If you derive satisfaction from overcoming challenges, a successful career as a Security Architect awaits you.
Teach Yourself or Someone
Persist in learning about the challenges prevalent in the field and offering effective solutions to address them. Instead of considering it merely a job, approach it as a personal favor to someone in need. If you possess excellent listening skills and empathy, a career as a Cyber Security Consultant is an excellent match for you.
Brushing Up Basics
Once you have reached this stage, you are halfway to becoming a cybersecurity specialist. The next step on your journey involves mastering the fundamentals of cybersecurity, including concepts such as the OSI model of networking, network terminologies, internet workings, hacking tools, security policies, and various types of threats. To acquire this knowledge, we recommend exploring free online courses available for cybersecurity training. If you are interested, we invite you to explore our well-designed and easily understandable lessons.
Now, let us see the roles of cyber security.
Different Jobs in Cyber Security
Security Architect
→ The Security Architect is in charge of the planning, implementation, and testing of security systems. They are responsible for protecting data from hackers, malware, and DDoS attacks. Because this is a senior-level role, you should expect proper and best cyber security training and certification. The function of the security architect is to secure the network by implementing proper firewalls.
→ The network and computer security architecture of a corporation is created by a security architect. The security architect assists with the planning, research, and design of security features.
→ Before cooperating with the programming team to build the final structure, the security architect creates a design based on the company's requirements. They design company policies and procedures for how their organization's personnel should use security systems, as well as punitive action in the event of lapses, in addition to building the architecture.
→ A security architect's starting average salaries include Rs 17 lakhs per year.
Security Consultant
The Security Consultant is a multi-talented and tech-savvy professional who protects the company's data and assets. They are capable of understanding and evaluating a wide range of security systems in a variety of industries. The Security Consultant decides on several tests, such as vulnerability, to protect the computer, network, and data. They can also provide technical assistance as necessary.
Penetration Tester
A penetration tester looks for weaknesses and loopholes in the system that hackers can take advantage of. Ethical hackers are another name for them. They can test the network, web application, or product using a variety of technologies. They also retain a record of the research and findings for future use.
Chief Information Security Officer (CISO)
This is an advanced-level position in which you will be in charge of a team of Security Officers. You have the ability to devise your own security system. Because this is an advanced function, you will also be expected to work with other stakeholders to determine the system's security. The importance of good training and network certification cannot be overstated.
Cryptographers
Cryptographers are professionals in security systems who are in charge of writing code that hackers can't crack. This is a mid-senior-level position that you will enjoy if you enjoy coding.
Security Analyst
In a cybersecurity Analyst job, your role will encompass planning and implementing various security measures, including those taught in cyber security analyst schools. You will be responsible for examining and documenting the system's security, thoroughly assessing potential vulnerabilities that could be exploited by cyber assaults.
This entry-level position in the field of cybersecurity typically requires a strong foundation in the principles and practices taught in cyber security analyst schools. To excel in this role, individuals should possess the necessary cyber security analyst qualifications, including knowledge of network security, security incident response, vulnerability assessment, risk management, and security tools.
By applying the knowledge and skills acquired through your education and training, you will play a crucial role in safeguarding information systems and networks from potential threats, ensuring the overall integrity and confidentiality of sensitive data.
Security Engineer
A Security Engineer is in charge of rebuilding the organization's security system. They implemented the necessary protections to keep the system secure. This is an entry-level position in the field of cybersecurity.
Cyber Security Manager
→ Cyber security managers are in charge of ensuring that the company's security policies are followed. For diverse projects, they design strategies to increase network and Internet security and supervise a team of IT specialists to ensure the highest levels of data protection.
→ A cyber security manager should also review existing security policies on a regular basis to ensure that they are up to date and reflect new threats. They also undertake security audits on all servers, switches, routers, and other linked devices on a regular basis to ensure there are no security issues.
→ The average yearly salary for a cyber security manager is Rs 12 lakhs.
Application Security Engineer
→ An application security engineer ensures that an organization's internal and external applications are secure. They'd be well-versed in dealing with the privacy and compliance issues that come with third-party programs like Azure or AWS.
→ These cybersecurity professionals should be hired by every company that wishes to integrate such software into their day-to-day operations. Cyber risks that compromise the integrity of the entire application infrastructure are also avoided by application security experts.
→ In India, the average income for an application security engineer is Rs 9 lakh per year.
Incident Manager
→ An incident manager determines which resources and skills are needed to resolve security events in a company. They form teams and take full responsibility for the outcome when something goes wrong.
→ As a result, it is an executive-level position that necessitates leadership and problem-solving talents. After gaining necessary qualifications that demonstrate your competence, you can often advance to this managerial position.
→ An incident manager's annual remuneration in India ranges from Rs 5 to Rs 8 lakh.
Now, let us look at some of the best IT Security certifications !
Certifications in Cyber Security
The certifications are provided by various organizations world-wide !
CompTIA A+
CompTIA Network+
CompTIA Security+
CompTIA Linux+
CompTIA Advanced Security Practitioner (CASP +)
CompTIA Cybersecurity Analyst (CySa +)
EC Council's Certified Ethical Hacker (CEH)
EC Council's Computer Hacking Forensics Investigator (CHFI)
EC Council's Certified Security Analyst (ECSA)
EC Council's Licensed Penetration Teste (LPT)
Certified Information Systems Manager (CISM)
Certified Information Systems Auditor Cisco Certifications (CISA)
Cisco Certified Network Associate (CCNA Routing & Switching)
Cisco Certified Network Associate (CCNA Cyber Security certification)
Certified Information Systems Security Professional (CISSP)
Systems Security Certified Practitioner (SSCP)
Certified Cloud Security Professional (CCSP)
Certified Authorization Professional (CAP)
Conclusion
That's all about the Cyber Security Career growth and the best IT Certs, including the best certifications for beginners. After reading this essay, I hope you found it enjoyable and learned something new. We have covered various aspects, including what Cyber Security entails, the reasons why cyber security is a good career choice, the essential skills required for success in the field, the diverse job roles available in cyber security, and the certifications that can help boost your career in this domain. Specifically, we have explored the best certifications for beginners, which provide a solid foundation and entry point into the field of cyber security. By obtaining these certifications, individuals starting their journey in cyber security can gain the necessary knowledge and recognition to kick-start their careers and set themselves up for future growth and advancement